The Mendini by Cecilio 13 Inch 3-Piece Kids / Junior Drum Set is one of the best drum sets in the market for children who have a great enthusiasm for playing on a drum set. As an ideal drum set for novice youngsters, it is constructed with real hardwood shells that come with triple flanged hoops.
It is basically composed of the instruments that will be needed by a beginner to learn the basics of drumming. For easy set-up, the Mendini by Cecilio 13 Inch 3-Piece Kids / Junior Drum Set is designed with drums and cymbals mounted off the bass drum while securing a small foot print for minimal space occupancy.
The manufacturer provides a one year warranty for any defects arising from any of the instruments.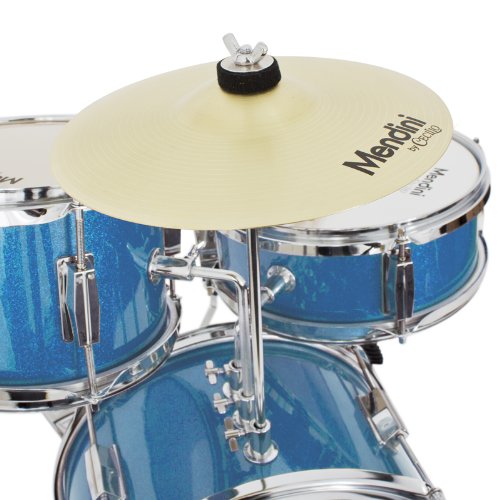 Features:
It comes with 13″ x 8″ bass drum
With 8″ x 6″ mounted tom
Provided with 8″ cymbal with cymbal arm
Equipped with bass drum pedal
With 10″ x 4″ mounted snare
Comes with an adjustable drum throne with round padding and wheels for mobility
Comes with a pair of wooden drum sticks
With an easy to read installation guide (the set is required to be assembled)
It comes in metallic blue color
It weighs at 22 pounds
Comes with one year warranty
Recommended for age group of 3-8 years old
With the dimensions of 16 x 15.5 x 15.2 inches
Pros:
A great size drum set that is ideal for toddlers
With a sturdy throne that is not too far off the ground which makes it safe for kids to sit
With a replaceable drumheads
With movable throne
With a sound safe for the hearing capacity of the kids
Very easy to assemble
It is comes with a real set which is usually made of either wood or metal so the kids will not easily break or bend any of the parts
With warranty from the manufacturer
It produces sounds like a real set
Strongly made drums
With Sturdy cymbal
A very good drum set for children
Cons:
Not eligible for international shipping
Summary
The Mendini by Cecilio Junior Drum Set is indeed a very nice present for kids who like playing drums and instruments. The component parts are designed for the safety and fun of children.
With a bass drum that is proportional to a child's size and a movable throne, this drum set will surely give great pleasure to children. It also occupies less space which is why it is also good for both small and large homes.
All the instruments are built sturdy as they are mostly made of wood or metal, thus children will not easily destroy the component parts. The drum set also comes with a one year warranty from the manufacturer so trust that they will easily replace any defected parts. Unfortunately this item is not eligible for international shipping.
Comparison
Aside from the Mendini by Cecilio Junior Drum Set, many drum aficionados also look at the Pearl Roadshow Drum Set and the Gammon Piece Drum Set as functional and reliable drum sets that are also currently popular in the market. Let us take a look at the features of the compared drum sets.
The Pearl Roadshow Drum Set is best for both professional and beginner drummers because of its quality and complete package feature. Another top of the line product of Pearl Roadshow, this set boasts of a five piece drum set with cymbals which is available in four gig-ready set ups, and in addition, four durable wrapped finishes.
It is also a viable set for professionals as it features geared locking stands and a bass drum pedal that is driven by a chain. As an entry level drum kit, it comes with other necessary parts like a throne and drum key for tuning the drums.
Overall The Pearl Roadshow Drum Set is a beautiful kit and easy to assemble as it comes with an instruction manual on how to set it up.
The Gammon Percussion Drum Set is among the best drum sets for adults who want to play professional drums. A product from Gammon, this set comes with five drums: bass drum, snare drum, floor tom and two mounted toms.
It also comes with stands, cymbals, hardware, pedals, stool, a drum key and sticks. It is everything that you need for getting started in drumming professionally.
As full line drum company, Gammon Percussion is dedicated for helping musicians experience playing music by providing them with percussions that can play in an optimum performance. The Gammon Percussion Drum Set a top of the line product that proves the reputation of the company.
Verdict
The featured drum set, Mendini by Cecilio Junior Drum Set, cannot be compared with the Pearl Roadshow Drum Set and the Gammon Percussion Drum Set simply because it is designed for children; all the instruments it uses are not in full size.
Therefore the Mendini by Cecilio Drum Set is highly recommended for children only and for adults the best recommendation is the Gammon Percussion Drum Set for using a chain driven foot pedal and real wooden drums. Next is the Pearl Roadshow Drum Set for using double braced legs for all the stands.