The Pearl RS525SCC31 Roadshow 5-Piece Drum Set is best for both professional and beginner drummers because of its quality and complete package feature. Another top of the line product of Pearl Roadshow, this set boasts of a five piece drum set with cymbals which is available in four gig-ready set ups, and in addition, four durable wrapped finishes.
It is also a viable set for professionals as it features geared locking stands and a bass drum pedal that is driven by a chain. As an entry level drum kit, it comes with other necessary parts like thrones and drum kits for tuning the drums.
Overall the Pearl Roadshow Drum Set is a beautiful kit and easy to assemble as it comes with an instruction manual on how to set it up.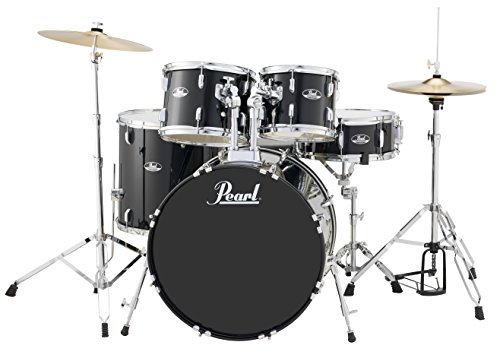 Features:
Comes with 22" x 16" bass drum
With 1" x 8" tom, 12" x 9" tom, 16" x 16" floor tom
Features 16″ brass crash-ride and 14″ hybrid hi-hats
Provided with 14" x 5.5" snare drum
Hardware includes snare stand, hi-hat stand, bass drum pedal, throne, cymbal stand, two tom holders
Comes with assembly instruction manual
Comes with manufacturer warranty
It comes in jet black color
All stands come with double braced legs
All drums are made with 9 ply poplar shell
Include other accessories like stick bag, sticks, welcome pack and poster
With the product dimensions of 46 x 46 x 50 inches
The item weighs 50 pounds
With drum key for tuning the sound of the drums
Pros:
Best for beginner, intermediate and professional drummers
Comes with durable and comfortable throne and quality sticks
Includes hardware for the cymbals
Hi-hat cymbals are not too loud and sound pretty good
Everything in the set is tuned up pretty well including the stock pearl heads
An affordable entry level kit by Pearl
With sturdily built and dependable hardware
With an impressive kick pedal
With an overall good tonal quality
With an upgradeable feature
With stylish and beautiful design
Easy to assemble by just following the easy- to read manual included in the package
Cons:
Not eligible for international shipping
Summary
Over all the Pearl Roadshow Drum Set is an impressive entry level that can well serve any beginner and intermediate drummers. For professionals, some upgrades are needed like replacing the cymbal and drum head with premium ones so that it may become more responsive with intense strikes.
Nevertheless, the package may be used as it is, especially for beginners. It features an affordable price for its quality. It is complete in everything that a drummer will need for playing such as drum keys and a throne.
Its tonal quality is sufficient for satisfying the sound expectation of any drum aficionado. The item comes with a warranty, but unfortunately it is not available for international shipping.
Comparison
Aside from the Pearl Roadshow Drum Set, some customers also like The Best Choice Drum Set and the Stage Rocker Drum Set for featuring qualities that are distinct from others. Let us take a look at some of the features of the compared drum sets.
The Best Choice Drum Set is among one of the best functional drums sets in its class. It is especially designed for beginners who want to learn drumming. The drum set will leverage the learning process of any novice drummer as this set comes complete with everything that a drum set should have.
It comes with style and elegance and comes in a black color with glossy finish. Packed with premium quality, the Best Choice Drum Set also comes with chrome plated hardware and sturdy shells. Professionals will definitely love this set because it produces quality sounds that will meet the expectations of a hard core rock star.
As an entry level drum set, the Stage Rocker Drum Set wit is a complete full size set for adults. This set is one among the most viable drum sets suitable for both professionals and beginners.
It comes with a drum key for tuning the sound of the drums according to the desired quality output of the drummer. The snare drum that comes with this set is sturdy and does not require assembly. Other things that come with the set are five extra tension bolts, five washers for the bass, snare drums and toms, and four tension nuts.
Verdict
Based on the facts given, the seemingly most outstanding in features is The Best Choice Drum Set because it comes in a full size and uses chain driven pedals. In addition to that it also features chrome plate hardware.
The next most outstanding is the Pearl Roadshow Drum Set for using double braced legs for all its stands. The last but not the least is the Stage Rocker Drum Set with double-braced hardware which is still outstanding with its features.