The Gammon Percussion Full Size Complete Adult 5 Piece Drum Set is among the best drum sets for adults who want to play professional drums. A product from Gammon, this set comes with five drums: bass drum, snare drum, floor tom and two mounted toms. It also comes with stands, cymbals, hardware, pedals, stool, a drum key and sticks.
It is everything that you need for getting started in drumming professionally. Gammon Percussion is dedicated to help musicians experience playing music by providing them with percussions that can play at an optimum performance.
The Gammon Percussion Drum Set is a top of the line product that proves the reputation of the company.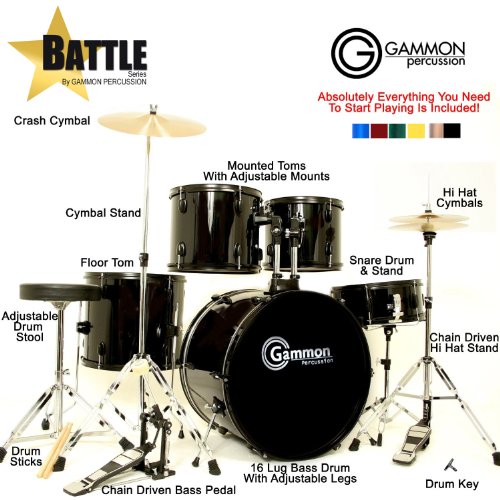 Features:
Comes with complete drum set in full size
Includes crash cymbals sticks stool stands and hi-hat
Comes chain driven pedals with high gloss black finish
Equipped with real wood drums in full size
With stand and ride cymbal
Provided with throne and drum stool
With bass drum pedal
Equipped with bass drum pedal
With drum sticks
All instruments are brand new
With 22″ x 14″ 12 lug bass drum
5 1/2″ x 14" wooden snare drum
13″ x 10" mounted toms adjustable tilt memory locks
16″ x 16″ floor tom – 2-12″ hi-hat cymbals
1 14″ crash/ride cymbal – snare stand
Item weighs at 84.4 pounds
Product comes with the dimensions of 30.3 x 24 x 22.1 inches
Comes in black color
Pros:
Comes with a tuning key for adjusting the sound
It is a complete quality drum set everything is included
Still good to use by persons standing at 6 feet
With full size drum shell sin affordable price
Very good for novice or beginners
Easy to assemble
With snares made of steel
With sturdy drums and cymbals
Cons:
Can be only shipped to selected countries
Summary
The Gammon Percussion Drum Set comes with everything; there is nothing more you can ask for when you purchase this item; you can expect that this set will come in great quality. It is a great bargain as its drums sounds terrific and the price is really worth it.
It comes with everything that a beginner will need for playing such as a key for tightening the tension rods. The snare is made of steel and comes already put together. Although the set comes disassembled it has an easy to read guide for assembling the drum set.
Some reviews comment about the cymbals but the majority found the sound just fine. However, since the cymbals can be taken out, the buyer may choose to replace them with the cymbals he desires. Over all the quality of this set is high.
Comparison
Apart from the Gammon Percussion Drum Set, the Best Choice Drum Set and the Stage Rocker Drum Set with double-braced hardware are also popular among drummers for quality and affordability. All these three drum sets come in full size and are viable to use for both beginners and professionals. Let us take a look at the features of the compared drum sets.
The Best Choice Drum Set is among one of the best functional drums sets in its class. It is especially designed for beginners who want to learn drumming. The drum set will leverage the learning process of any novice drummer as this set comes complete with everything that a drum set should have.
It comes with style and elegance and comes in a black color with glossy finish. Packed with premium quality, the Best Choice Drum Set also comes with chrome plated hardware and sturdy shells. Professionals will definitely love this set because it produces quality sounds that will meet the expectations of a hard core rock star.
As an entry level drum set, the Stage Rocker Drum Set wit is a complete full size set for adults. This set is one among the most viable drum sets suitable for both professionals and beginners. It comes with a drum key for tuning the sound of the drums according to the desired quality output of the drummer.
The snare drum that comes with this set is sturdy and does not require assembly. Other things that come with the set are five extra tension bolts, five washers for the bass, snare drums and toms, and four tension nuts.
Verdict
The most viable drum set among the three is the Best Choice Drum Set because its hardware is chrome plated and it comes near to the quality expectation of hard core rock stars. It features chain driven pedals and is beautifully finished in high gloss.
The next most viable is the Gammon Percussion Drum Set for also using chain driven pedals. The last but not the least is the Stage Rocker Drum Set with double-braced hardware.